Over time a website will start to go wrong if not looked after properly. So what does website maintenance mean?
The easiest way to explain it is to think of your website as a car.
You must do lots of things to keep your car running and on the road so it's safe to drive. We primarily use WordPress to build websites, so some of the screenshots you'll see in this article are from a WordPress-based site, but whatever platform you use, the concept is the same.
What is website maintenance?
Essentially, website maintenance is ensuring your website is running smoothly and securely. Website maintenance includes tasks such as:
– Updating website content
– Monitoring website performance
– Identifying and resolving website issues
– Adding new features or functionality to a website
Why Website Maintenance Is Important
There are many reasons why website maintenance is essential to ensure that your site visitors have a great experience and also helps keep you ranking on google.
A WordPress website is hugely versatile. As the content management system is open source, a wide variety of addons (also known as plugins) are available.
As with any software, there are always bugs and new features and changes to old features added and changed over time.
These changes may change how your website works and fix security issues that could affect your customers, so you must keep your website up to date.
You'll also need to take care of your website's performance. Over time WordPress databases grow as it stores information from various sources.
For example, if you make changes to your blog posts, there's a version stored in the database every time it automatically saves. If you're working on a long blog post, that could be ten times before you publish your brand new post.
If you run an eCommerce business, your website will store important information such as names and addresses of your customers plus details on variations of products, increasing the database size.
The more extensive the database, the longer things take to run, as your website must go through loads of data to find the right one to display to your customers.
Essentially a poorly maintained website will have a direct effect on your customers.
Website Maintenance deep-dive
There are three categories of website maintenance to keep your website up to date. We've defined them as on-page, upgrades, and technical.
Technical
Depending on your hosting package, your hosting company's technical support will provide this type of technical maintenance, but knowing what to look out for is helpful.
This type of maintenance is all about the computer (or server) your website is stored on.
You must ensure that your server is always up to date and running the correct software versions.
Firewalls
You'll also need to ensure that you have the proper firewall rules in place. A firewall blocks a computer's physical address so it can't connect to your website.
Useful if you need to block a computer if you have someone trying to break into your website from the same address.
Monitoring Performance
This one appears a couple of times, and we'll cover it again a bit later. However, you need to know that your server reports an error when your website encounters a problem.
For example, if someone is having a problem loading a page, it'll be reported in these log files, which are helpful for any website but especially for eCommerce websites.
You should have access to these logs from your hosting control panel. If you have problems with your website, you'll likely be asked to provide these logs to your website developer so they can investigate.


On-Page maintenance tasks
On-Page maintenance is everything to do with your website pages. A well-maintained and regularly updated website will also help with search engine rankings, so it shouldn't be neglected.
You should review your website regularly to ensure everything is working as expected.
Broken Links
Links are used for navigation around your website or links to other websites.
You need to check your navigation links to ensure that there are no broken links i.e. when someone clicks on it, it goes to the correct page on your website.
While your website is under your control, other sites you link to aren't. As websites evolve, pages change, get updated, and move elsewhere. It's always worth checking any links to an external website to ensure that they work and that the content on the target page is still relevant.

Broken contact forms
This one goes without saying. If you have a contact form that's not working, then you're not going to get anybody contacting you. Always test your forms to make sure that they're still working correctly.
Web page updates
As your business changes, so should your website. You need to ensure that you have up-to-date fresh content throughout your site. For example, if you change your phone number, don't forget you'll need to update it on your website as people will still be ringing the old one!
You should keep your website fresh, so if you have new photos, keep adding new ones. Maybe think about a news section to keep people up to date about what's happening in your company.
If you're selling products, ensure that your product pages are up to date with the latest information and prices.
WordPress Updates
We're specialists in WordPress websites, so this section is purely for WordPress, but the same concepts apply to all the other CMS systems.
WordPress is open-sourced software. It has a vibrant community of developers that create plugins and contribute to WordPress to enhance how it works for everybody.
I wrote an article about what WordPress is if you'd like to know a bit more detail.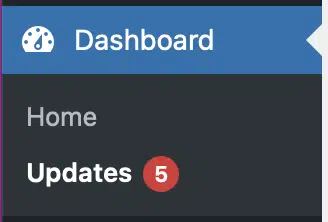 WordPress Core
WordPress is website software but is no different from any other type of software. Software updates are issued regularly to fix bugs and security issues or add new functionality.
Updating WordPress is done from within your WordPress Dashboard. When there's a new update available, it'll show in the updates section.
There are two types of WordPress software updates, major releases, and minor incremental updates. Major updates usually add new functionality, while minor updates are traditionally bug fixes.
WordPress uses a decimal numbering system to denote its release versions, for example, 6.1.
You should apply updates to WordPress as soon as possible, but don't just apply them straight to your live website, as these changes will impact how your website works. You should always test them in a staging environment first and take a backup of your site.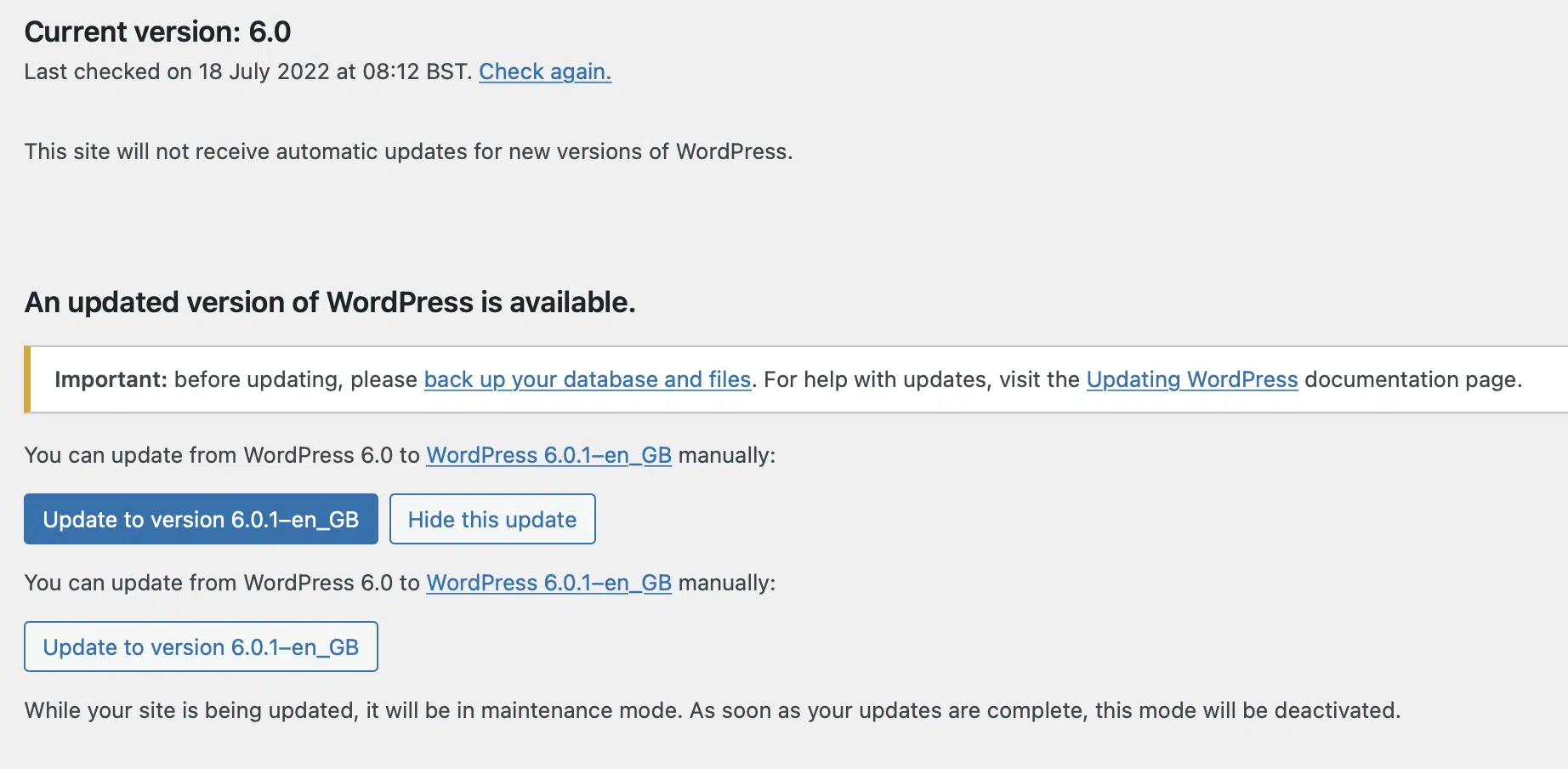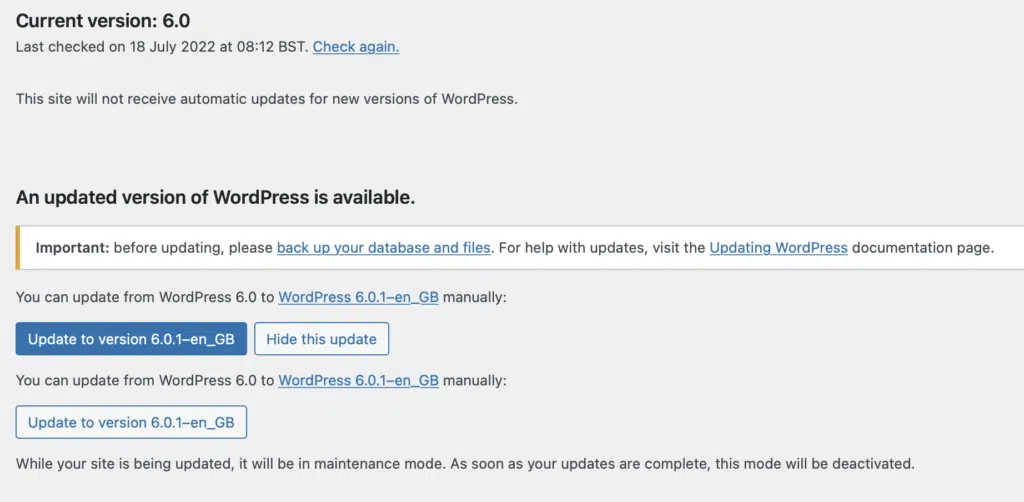 Plugins
Plugins add functionality to a WordPress website. There are various plugins, from ones that help you build websites without coding, such as Elementor or Divi, to ones that change how WordPress works, such as WooComerce, which turns WordPress into a shop.
As with core updates, these plugins will also get new updates to address any issues or add new functionality, so you should always ensure they're up to date.
Again, as some of these updates can alter how things work on your site, you should always test them before applying them to your live website.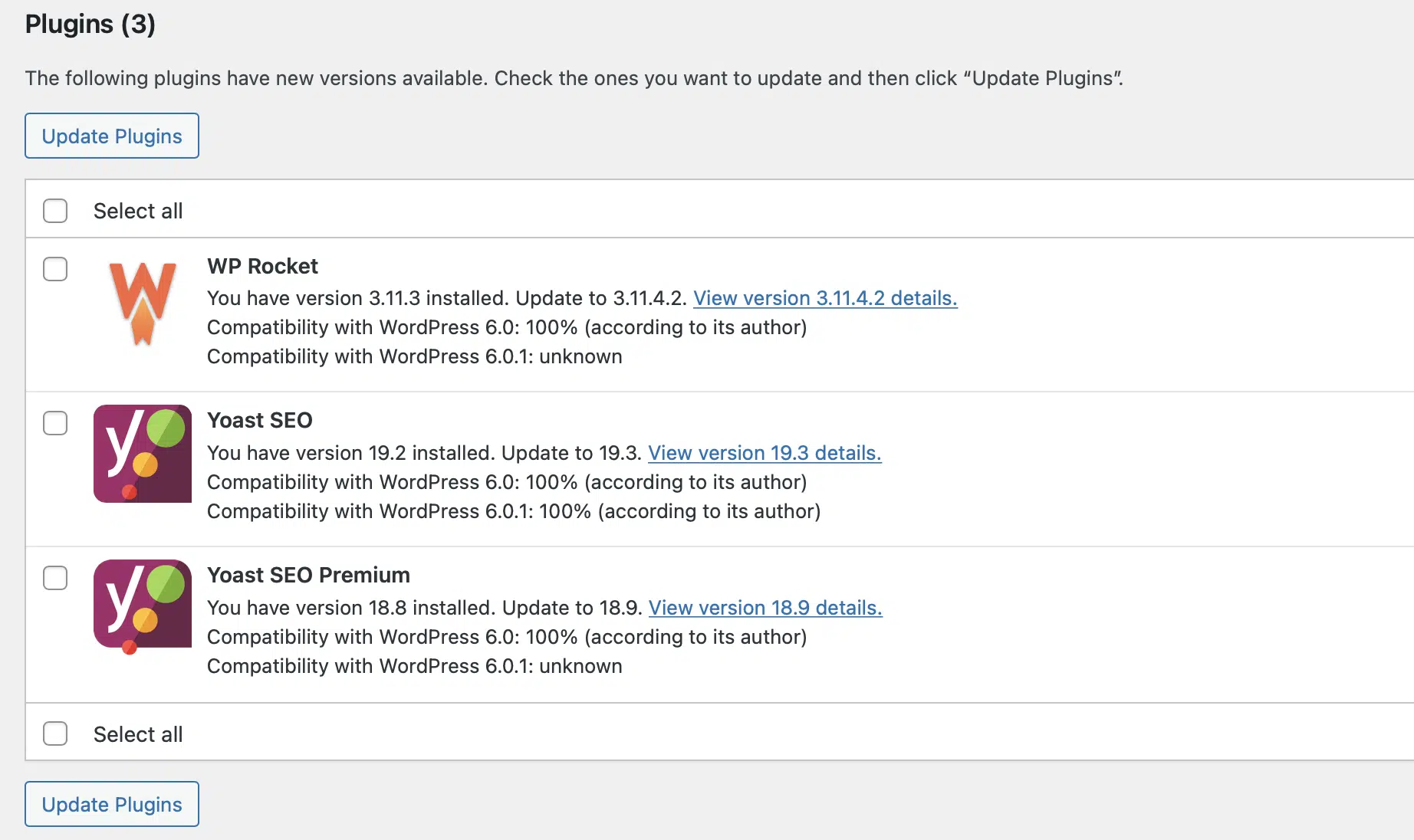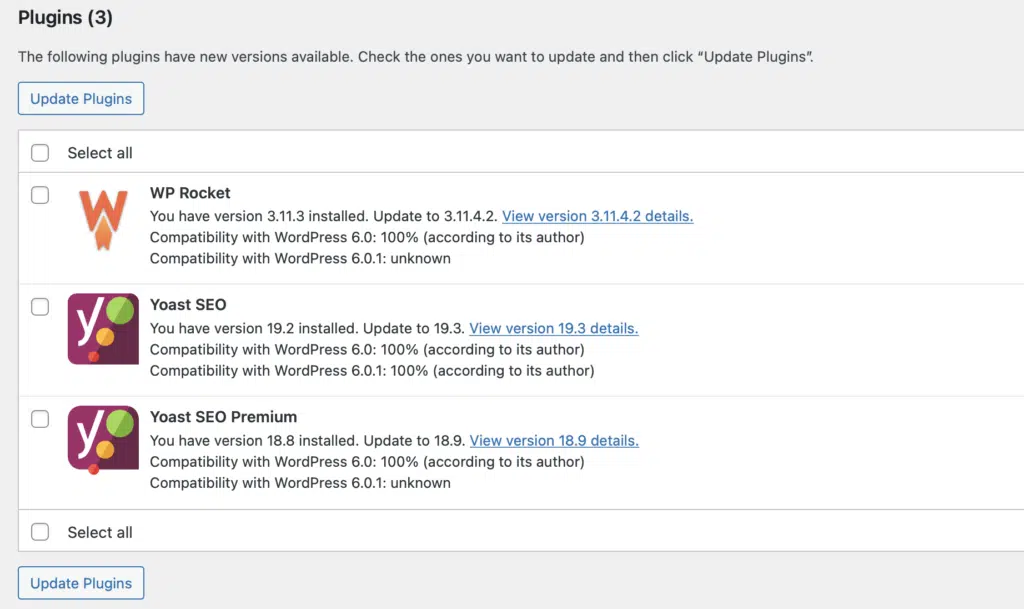 Staging environments
A staging environment is a copy of your live site where you can test updates and develop and test new functionality without impacting your live website.
Once you're happy that all updates have been applied and everything is working as expected, you'll be able to copy your staging site to your live site.
It's important to note that any copy from a staging site to a live site will overwrite your live site. So it would be best to decide whether a straight like-for-like copy is needed.
For example, suppose you run an eCommerce website. In that case, a copy from a staging site will also overwrite any orders you've received and add testing data into your live database, so it's probably not the best way forward in these circumstances.
Website Maintenance Services
Most web design companies will offer a website maintenance package as an aftercare service or as part of a Web Design Package (you could also hire a dedicated maintenance company) if you feel you haven't got time to perform regular website maintenance tasks.
Maintenance packages should cover everything we've covered, so when hiring, check what you're getting and the reporting mechanisms in place.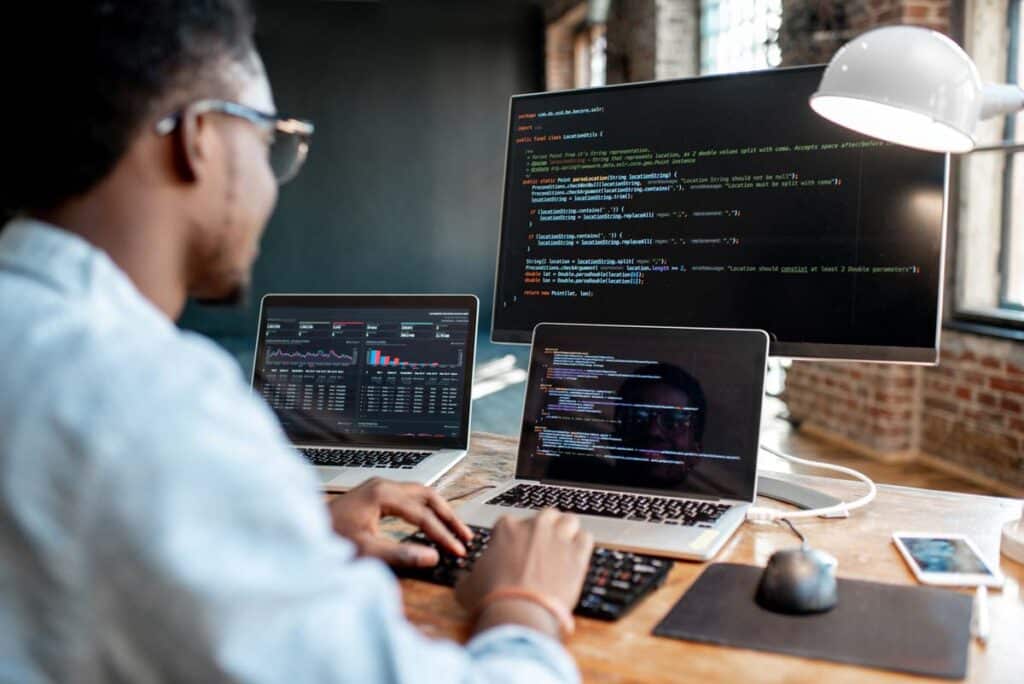 Website Maintenance costs
Unfortunately, there's no one set price for how much a maintenance service costs, as it depends on the complexity of the website, so it's more of a sliding scale.
You also need to consider any other services that might be included. For example, a website maintenance package might include hosting costs, search engine optimisation services, and domain name renewal.
A basic company website that doesn't update very often should cost you from £60 per month but increase depending on the complexity.
You will be looking at a starting price of £150 per month for an eCommerce website maintenance package that is generally more complex.
If a website maintenance plan includes search engine optimisation services, you would expect to at least double the base price due to the extra work that goes into an SEO strategy.
Conclusion
Whether you have a small business website or a personal website, you'll need to perform regular maintenance, ensuring that your website keeps working.
If you're on a budget, there are many aspects that you can do yourself, but you need to pencil in time in your schedule to complete tasks.
We've created a free website maintenance checklist that you can download to help you track tasks.
If you're still not confident or don't have the time, then hiring someone to provide maintenance services for you might be a good choice. You should check what is included in the maintenance package and if there are any reports you get so you know what's been completed.
What you shouldn't do is neglect website maintenance. Customers who see an ill-maintained site will be less likely to contact you. It could also have a broader impact on customers and search engines.